NAA has created two digital safety toolkits that can be downloaded here:
There are many precautions that can be taken to prevent wandering, but proper response in an emergency situation is critical. AWAARE has created materials that focus on both. Please 
click here
 to find our frequently asked questions. You may also want to review safety and response materials, including:
The items listed above are included in NAA's 
Big Red Safety Box
, along with the following products that can be purchased online:
We also recommend using Stop Sign Visual Prompts for doors and windows.  To create your own, perform a 
Google Image Search
 to find an image you like. Then right-click on the image and choose "save image to desktop. Print and adhere to windows and doors.  You can purchase pre-printed adhesive stop signs and other safety items at the 
NAA website
.
————
As you can see their flagship resource is the 
Big Red Safety Box
 which you can apply for and includes all the resources in one neat little kit/box
5)  The fifth way that we can reduce the number of autistic kids drownings is the one that you probably hear about the least.  Get your autistic kids swim lessons asap!  These kids are drawn to water.  It is a fact.  Don't let that fact scare you away from teaching your kid to swim.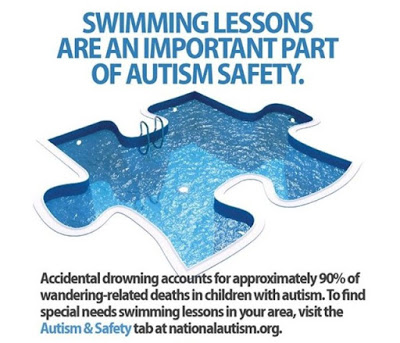 My son had no fear of the water when he was younger and would just walk right in.  We signed him up for special needs swim lessons at our local Y as soon as he was old enough and now I'm proud to say that I'm confident that he could tread water for HOURS if god forbid that was necessary.  Get your kid swim lessons ASAP.  There's a link to that AWAARE.org site that lists all the YMCA locations in the US that offer Special Needs swim lessons. http://nationalautismassociation.org/resources/autism-safety-facts/swimming-instructions/  Sign your kid up today.
Those are the 5 main ways to tackle the wandering/ elopement/ drowning issue within the autism community.  I think this is the year that the autism community needs to stand together and start tackling the issues that we all can agree on.  That's what I'm going to try to focus on with my Autism Daddy blog this year.  Wandering/ elopement / drowning incidents are one.  Fighting for those amber alerts & tracking devices is an off shoot.  Bullying is another.  Cameras in special needs classrooms and buses is another.  Let's stand together this year, let's stand united and try to accomplish the things that we all agree on.
But first up, get your kids swim lessons ASAP!  I don't want to see another autism drowning death in 2016!  Maybe we will see you at the Y!  That's where we are headed today!
THE END!